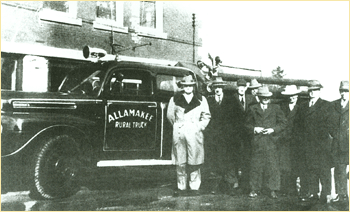 German Farmers Mutual Insurance Association was started in 1870. True to the Association's name, the original minutes were all recorded in the german language. The first minutes written in English and German occurred in 1921. It wasn't until 1925 that the last German minutes were written.
The first secretary-manager we are aware of was CJ Helming, 1915. In 1923, John Meier became secretary-manager of the mutual. The Association's one-room office was shared with a local barbershop.
In 1958, a move was in order as Karl Simmons became secretary-manager of the mutual. Its new location, 18 Spring Avenue, occupied just two rooms.
Charles Cook was named secretary-manager in 1968, and the mutual was again moved under his supervision. This time, the move was to the building next door, 20 Spring Avenue.
In 1985, Linda Bernhard succeeded Cook as secretary-manager. While the office remained in the same location, the German Farmers Mutual Insurance Association expanded by purchasing a neighboring Spring Avenue building August 1, 1986. The newly purchased building, which was previously home to a bar, was remodeled and expanded beginning in November 1986, with the project completed January 8, 1987. German Farmers Mutual continued to extend its boundaries and moved into the remodeled building where it presently continues to serve the public.
German Farmers Mutual undertook an expansion of another sort January 1, 1995, through a reinsurance assumption agreement with Scandinavian Mutual, continuing to serve all its customers under the German Farmers Mutual moniker. Thirteen years later, January 1, 2008, the German Farmers name was retired as the Association requested to change its title to GFMutual Insurance Association. At that same time, the Association expanded and became authorized as a 518A company of the Code of Iowa. It now is permitted to write in the eleven counties of Allamakee, Clayton, Fayette, Winneshiek, Howard, Chickasaw, Bremer, Blackhawk, Delaware, and Dubuque under the name of GFMutual Insurance Association.
Currently, GFMutual continues to offer coverage for home, farm, seasonal home, mobile home, tenant, and rental home to its customers. The Association is reinsured with Grinnell Mutual Reinsurance Company of Grinnell, Iowa.